At the end of January, our Seal Commerce family's trip to Dalat was held successfully. The 3-day, 2-night trip to the dreamland became a destination full of laughter, a place to connect bonding experiences and to help Seal members relieve stress from high pressure working days.

Our Dalat trip was connected with gentle and romantic activities. In just 3 days, the Seal team visited the poetic and charming scenes in the cool atmosphere of this city.
Right from the early morning, we all eagerly gathered at the familiar place "Tan ca" to leave the bustling and crowded capital to move to the city of flowers
Đặt chân đến thành phố hoa anh đào vào mùa đẹp nhất trong năm, sau khi nghỉ ngơi và ăn trưa, không chờ đợi lâu hơn, đoàn chúng mình lập tức check in Đường hầm điêu khắc, địa điểm đầu tiên trong hành trình "Đà Lạt phiêu lưu kí".

Arriving in the city of cherry blossoms in the most beautiful season of the year, after resting and having lunch, we couldn't wait to immediately check in The Clay Tunnel, the first place of our journey.
This place is an artificial tunnel with unique architectural and cultural works such as Dalat railway station, the palace of Bao Dai King, Truc Lam Monastery, Dalat University, Palace Hotel, Dalat Cathedral (Chicken Church), Linh Son pagoda, Xuan Huong lake, Da Lat center market... then Lien Khuong airport, Tuyen Lam lake,the valley of love... These are all famous Dalat attractions which are meticulously created on clay material.
In Particular, the Infinity Lake is where anyone who comes can't wait to check in and we also didn't forget to capture great moments at this clay tunnel!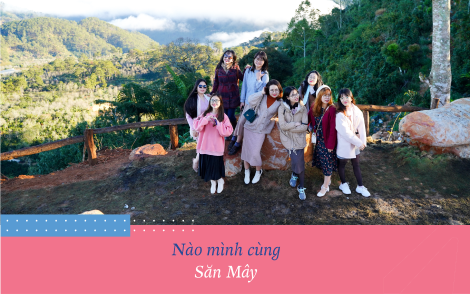 The experience of hunting clouds in Cau Dat tea hill brings us amazing experiences in the land of fog.
This area was surrounded by mist, it seemed that heaven and earth harmonized with the captivating natural beauty of floating clouds and the clear blue sky. There was a vast green space stretching to the infinity of the tea hill, all blended to bring a cool, pleasant and extremely fresh atmosphere.
"To hunt for clouds, we had to wake up early at 5 a.m. Because we stayed overnight, we felt asleep when we got in the car. When I opened my eyes, I saw many layers of clouds flying around us, we felt as if we were in heaven!", Duong Thanh Hien - HR team shared.
Team Seal Commerce continued to check in the extremely attractive virtual living place named "Bắc thang lên hỏi ông trời Đà Lạt".
The Golden Bridge hand model is lying on the perfect background, it is located right under a valley surrounded by a large pine forest, which made the whole team really surprised. Standing on the bridge, we could see the small houses. Here, we also had a lot of super-beautiful, super-virtual shots of this livable city!
And there are many other special things from the "miniature Paris" that impressed the whole team, they are the peaceful Linh Phuoc Pagoda, the majestic beauty of Bali's heaven gate, or the unique and delicious taste of wine in the wine tunnel, and also the enjoyment at Cafe Horizon with a beautiful view…….
Đà Lạt trong mắt team chúng mình còn là thiên đường ẩm thực với các đặc sản tuyệt vời ông mặt zời như buffet rau tươi đủ loại, lẩu gà lá é, thịt nai xào rau rừng, kem bơ béo ngậy,... và là thành phố của những con người thân thiện, vô cùng tốt bụng, dễ thương bởi ".... cứ gặp người Đà Lạt là được mời ăn dâu tây…." - Bạn Bùi Ngọc Minh, lập trình viên backend chia sẻ thêm: "Đây là lần đầu tiên em đặt chân tới Đà Lạt, có rất nhiều cảm xúc tại thành phố xinh đẹp này, từ cảnh vật, ẩm thực, con người đều rất tuyệt vời. Chúng em đã nạp đủ năng lượng để lên dây cót tinh thần, để tiếp tục nắm bắt các sprints mới, chinh phục những thử thách mới……. và mong chờ đến các company trip tiếp theo …"

Da Lat in our eyes is also a culinary paradise with wonderful specialties such as a BBQ buffet of fresh vegetables, chicken hot pot, stir-fried venison, greasy butter cream, ...
This is the city of friendly, extremely kind and cute people because "....every time you meet Da Lat people, you will be invited to eat strawberries..." - Bui Ngoc Minh, a backend developer shared: "This is the first time I have ever come to Dalat, there are many feelings in this beautiful city, from the landscapes, the food, the people, everything is very great. We have recharged enough energy to fuel up our spirits and continue with new sprints, conquer new challenges……. and look forward to the next company trip…"
And "Đà Lạt phiêu lưu ký" was even more special when we hosted a birthday party for all Seal members born in January. There was nothing more romantic and wonderful than blowing out candles, receiving birthday wishes and gifts with super lovely and extremely humorous colleagues at this place! Giang My Hoa, an HTML programmer, shared her feelings: "I am very surprised and happy. I can't imagine that my birthday would be held in Da Lat, perhaps this will be my most memorable birthday."
Thanh Nhan, UI/UX designer shared "We have enjoyed the most relaxing and comfortable time for the past 3 days. I have worked in many companies and participated in many team building activities, but I have never seen such a comfortable and engaged environment as here. The trip has left my team with valuable experiences and unforgettable memories."
We finished the 3 days 2 nights tour with laughter and joy, we got back to Hanoi and prepared to go back to work. It can be said that "Đà Lạt phiêu lưu ký" is a trip that leaves a lot of impression on each member of the Seal Commerce family, a motivation for us to continue striving every day to conquer new goals before the next trip.
See more "Đà Lạt phiêu lưu ký" video